Candidate Engagement
What Is and How to Use Text Recruiting
Text recruiting has emerged as one of the most popular ways for employers to engage job seekers. Why? Well, it works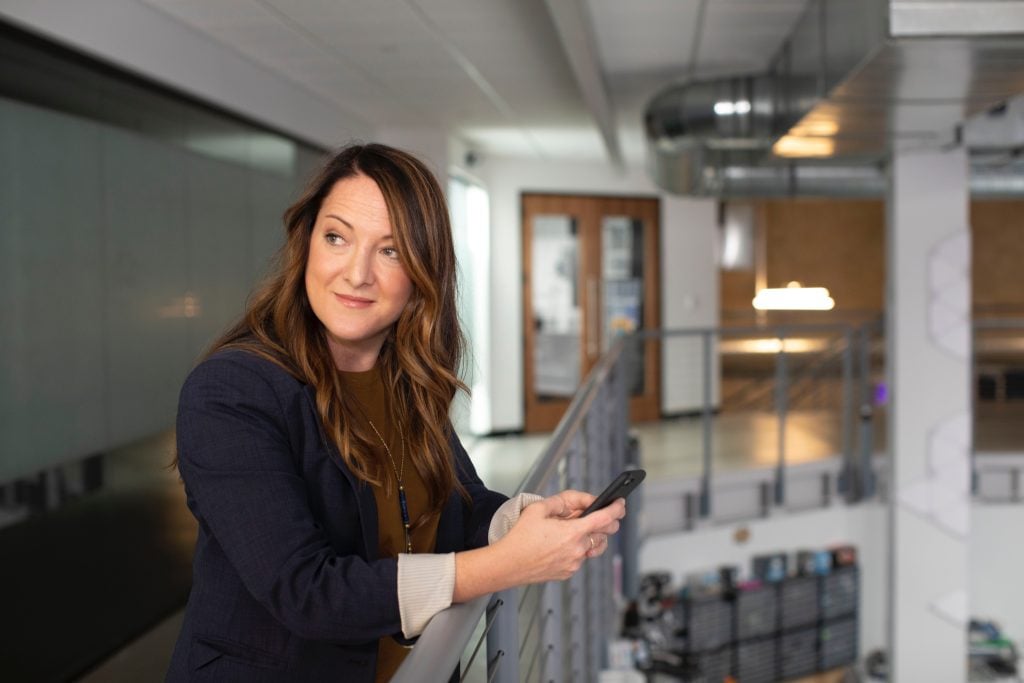 Text recruiting is the use of text messaging (or SMS) for communicating with candidates during the hiring process. It has emerged as one of the most popular ways for employers to engage job seekers.
Why? Well, it works.
Text messages are often read in under 5 minutes and have been shown to have 8x the response rate of email.
When used right the way recruiting texts can feel personal, timely, and actionable. But a bad text message can feel invasive and push people away.
We have delivered thousands of text messages to job seekers for our customers, which has given us a good sense of what works and what doesn't.
Here is how to best use SMS and text recruiting:
Who to send your text messages
Texting is best used for communicating with candidates and job seekers who have already expressed interest in your company.
These people can range from finalists who almost got hired to job seekers who didn't finish quite applying for a job but opted in to receive updates.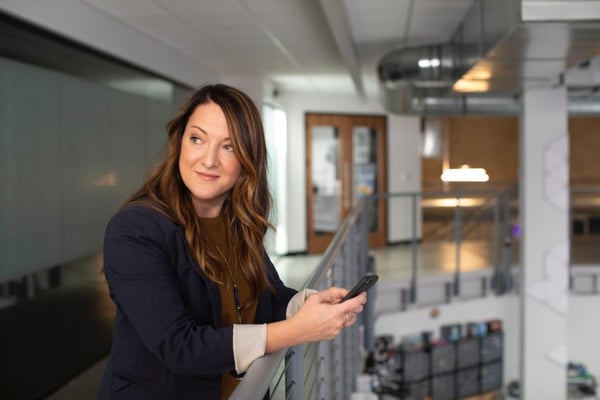 Recruiting teams typically keep the contact information for these people on hand using a combination of an ATS, CRM, and Dalia.
What types of roles to focus on
Text recruiting can support the hiring of any type of role, but it can be especially valuable for high-volume recruiting. Roles that have a large amount of turnover or are constantly being hired for are a great fit for SMS.
Recruiting with SMS can also be helpful for hiring hourly employees. That's because the hourly workforce doesn't always work from a desk, use email, or have a personal computer at home. They do typically have a phone, however.
Since text messaging is on every mobile device, is easy and intuitive, and requires no login – it's a great way to reach everyone.
What type of content to send
Recruitment texts create a sense of urgency with job seekers so it's important to make your messages relevant and actionable.
New jobs that fit a person's career interests are perfect to send out in a text message.
For example, let's say Jane started a job application with your company but didn't finish it. You could text her letting her know that a similar role just got posted nearby to encourage her to apply for your job.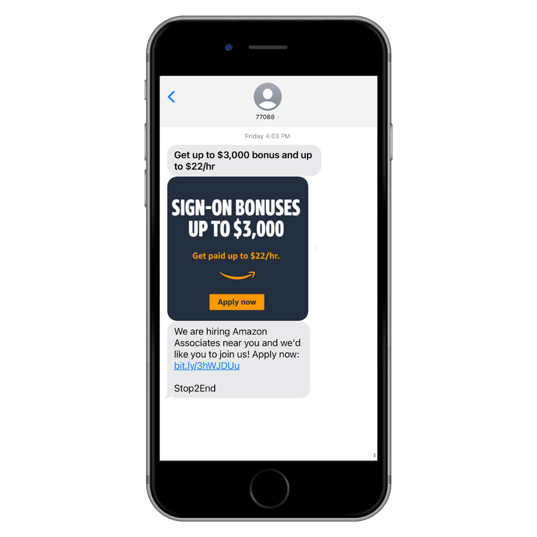 Amazon uses text messages like the one above to nurture candidates and make hiring faster and more efficient.
Manual or automated
Sending personalized and relevant recruiting texts to thousands of people at a time can be difficult. That's why we believe automation is important if you are hiring more than 5 people at any given time.
Dalia automates recruiting texts to job seekers whenever employers post a new job that matches that person's location and job title interests.
Candidates get engaged with a personalized and relevant message and employers get more qualified candidates for their jobs.
Automating recruitment texts allows employers to make hires faster, deliver a great candidate experience, and avoid taking on extra work.
Staying compliant
Text messaging is regulated differently than email, which is why it's important to only message candidates that have chosen to receive updates from your company.
On top of that, giving candidates the opportunity to unsubscribe and opt-out of receiving future messages is important.
Automated texting solutions can be helpful for tracking unsubscribes and ensuring no candidates fall through the cracks.
Text messaging is a great way to communicate with job seekers, but be sure your messages are relevant, timely, and personalized. You'll make it easier for your people to find and apply to your jobs, and be able to hire qualified candidates faster.
About Dalia and how we can help
Dalia makes it easier for people to find jobs and for employers to hire more efficiently. Employers use our candidate experience platform to automate talent nurturing and connect with job seekers faster. We hear firsthand from job seekers about the ups and downs of their search and use that feedback to keep making it easier for them to find a job. If you're searching for a job – sign up, and if you're hiring – get a tour.