Candidate Engagement
Why It Might Be Time to Upgrade Your Job Alerts
Are your job alerts living up to their full potential? Chances are not yet.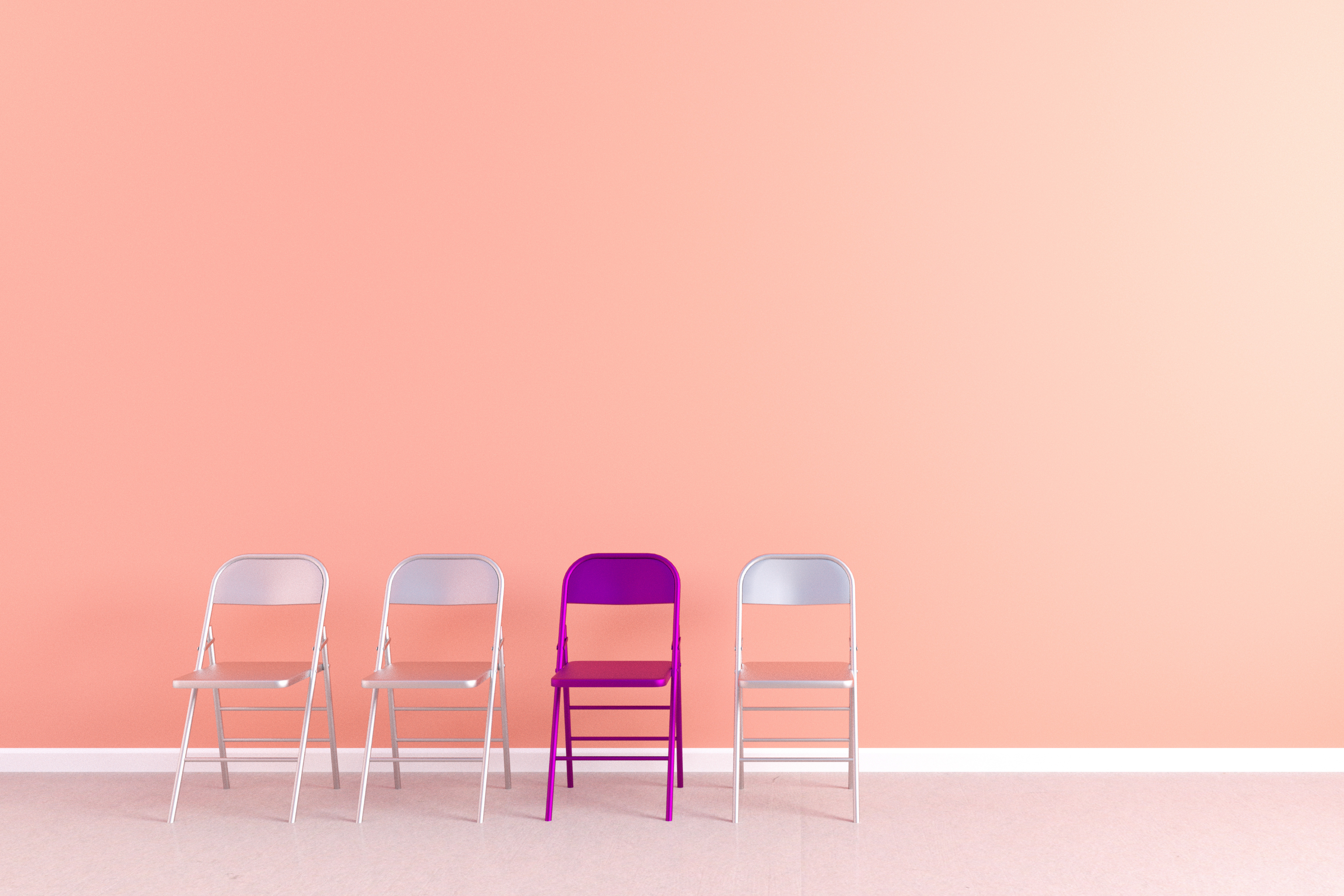 Job alerts are one of the most underutilized, underappreciated, and misunderstood recruiting tools out there.
When used effectively they can help you drive more qualified applicants, increase job advertising ROI, and lower your cost-per-hire.
Chances are you already have job alerts as part of your recruitment marketing stack. They're automated notifications that typically get emailed to job seekers once a month and include your current job openings.
But are they living up to their potential and do they drive qualified applicants for your jobs in a meaningful, trackable way? Probably not.
That's because traditional job alerts are:
Unpersonalized: a long list of irrelevant jobs in different locations
Email-only: they don't get delivered over SMS or text messaging
Low deliverability: those sent over email usually end up in SPAM folders
Rarely sent: they go out only once or twice a month
Have hidden sign-up forms: so few people actually sign up to receive them
They probably look something like this email.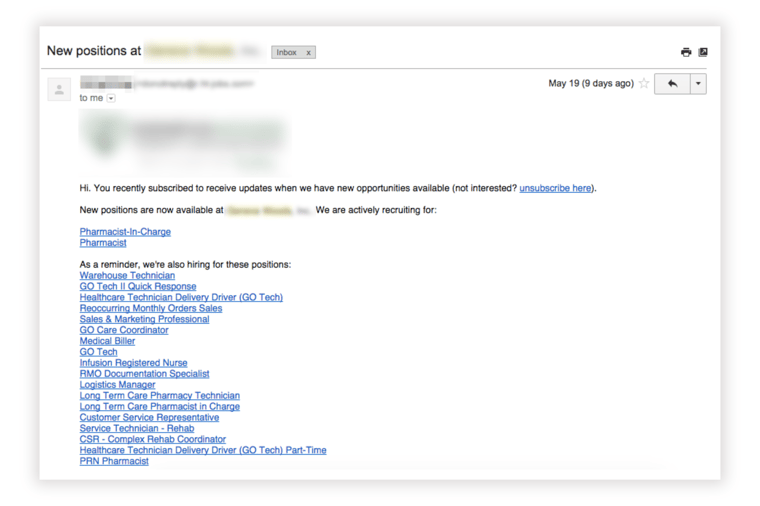 A screenshot of a typical job alert email
But job alerts don't have to be this way. Look at how consumer-based e-commerce companies are using email and text alerts to drive revenue.
Crate & Barrel is a retail company that depends on converting website visitors into purchases. But they also know that people don't always buy something the first time they see it.
They engage visitors as soon as they arrive at their website with a pop-up form so that even if you leave they can remarket products to you via text message and email.
When you arrive at their homepage, here's what Crate & Barrel's website engagement looks like.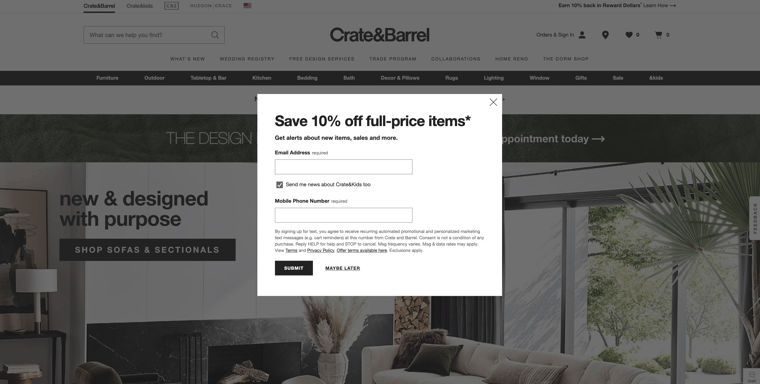 A screenshot of Crate & Barrel's website and their use of remarketing
This approach allows Crate & Barrel to maximize their conversion rates by instantly capturing visitors' contact information before they even start browsing. Then they use email and SMS remarketing to bring shoppers back to make purchases.
Talent acquisition teams are using this same approach to drive more people to apply for jobs on their career sites.
Here's how Ryder is engaging job seekers who come to their career site before they have even seen what job openings are available.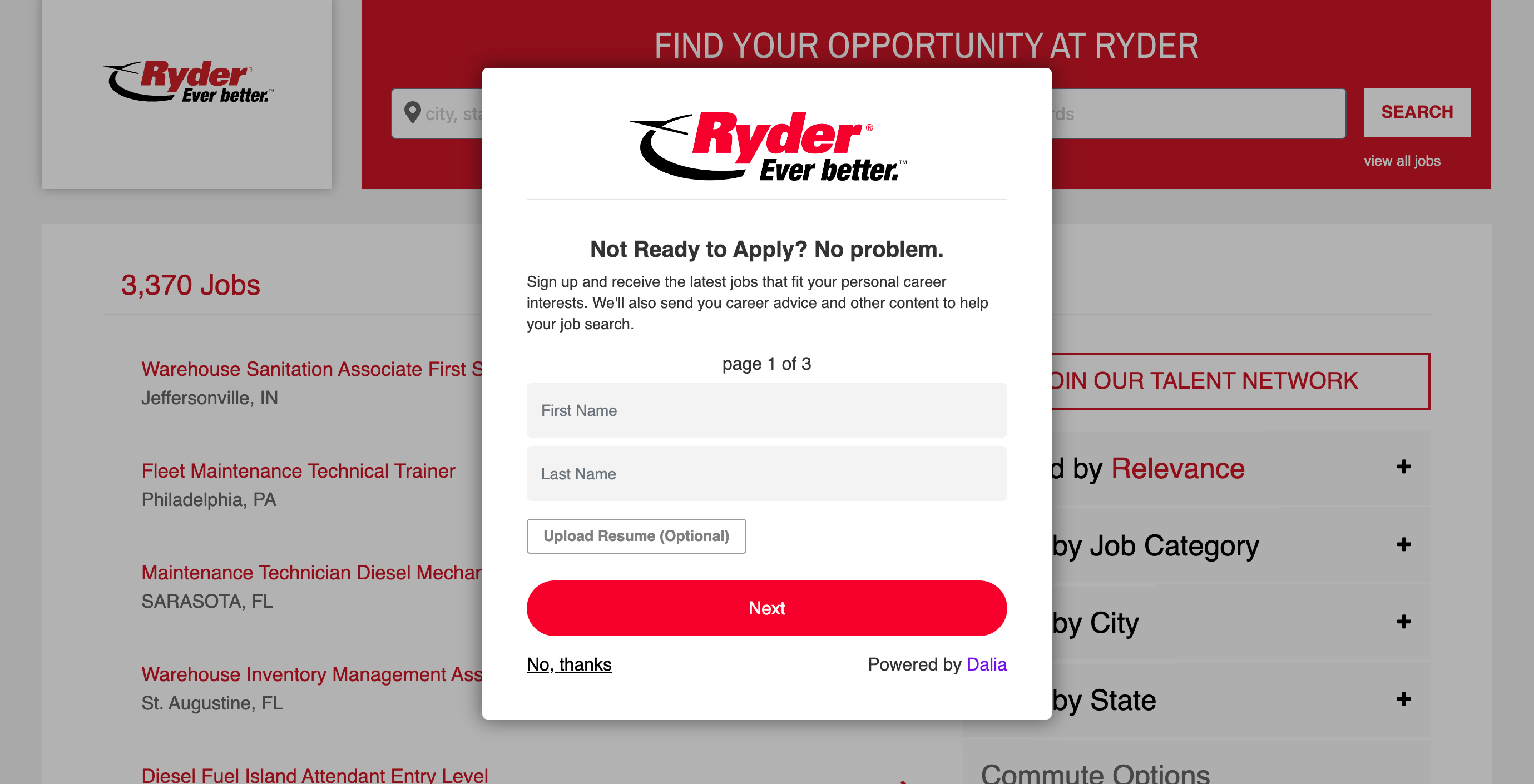 A screenshot of Ryder's career site and their use of remarketing
After job seekers are engaged with this form, and basic information like their name, location, preferred job type, email, and phone number are captured, jobs can be remarketed to them.
They are immediately matched with job openings and begin receiving email and text message job alerts.
Ryder has modernized their job alerts with Dalia to be:
Personalized: they only send relevant jobs in relevant locations
Multi-channel: they are sent over both email and text message
High deliverability: they're optimized to reach job-seeker inboxes
Sent frequently: they go out every one or two days
Include highly engaging sign-up forms: so lots of qualified people sign up to receive them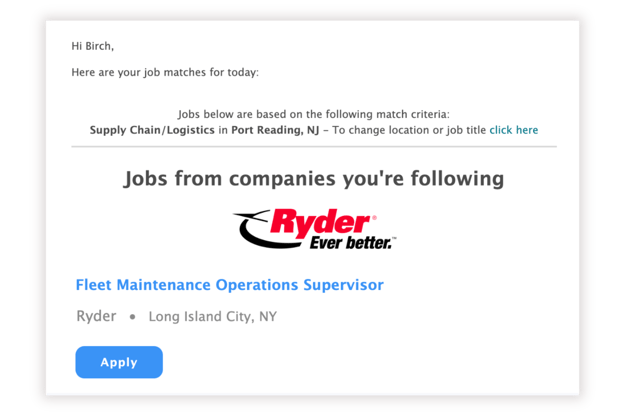 A Ryder job alert sent via email through Dalia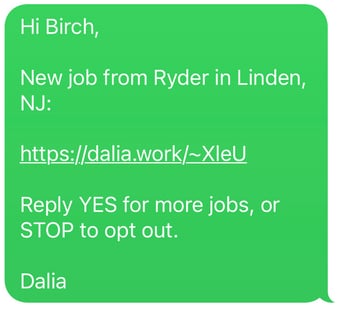 A Ryder job alert sent via text message through Dalia
That's because hourly, frontline, and blue-collar workers in industries like healthcare, retail, hospitality, transportation, manufacturing, energy, staffing, and environment services want job alerts that help them find work quickly.
Don't miss our Reality of Hourly Recruiting Report for lots of great tips on engaging and converting hourly applicants if you haven't already read it.
Here's a breakdown of how Dalia's job alerts compare to generic job alerts that might come with your ATS or CRM.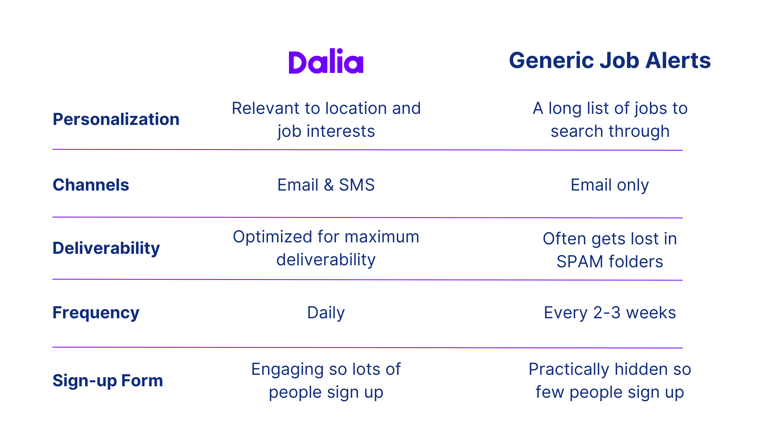 Modern job alerts are impacting employers in a big way.
Talent acquisition teams are seeing Dalia as a new top source of qualified applicants, getting 25% more ROI from their job advertising, and lowering their cost-per-hire by 50%. Learn more about customer results here.
Ready to modernize your team's job alerts? Meet with an expert from our team.